Anyone who is a weekly comic book collector knows how over the months and years you collect certain books that have lost their creative power and are almost a chore to read. Or perhaps you pick up a new series and try to figure out when its time to tap out. And the more you put it off, the more that unread stack of comics feels like homework.
This week was so refreshing, because I kept reading comic after comic that was a delight to read. I kept waiting for the next comic to break the streak, but so many of them were just purely entertaining.
Doomsday Clock #6
This story gets into the background of new characters Mime and Marionette. Once again, Geoff Johns goes darker than he normally does as these two characters accompany the Joker to a clandestine meeting of villains. The best part of the writing were the character moments where Johns helps define the villains' relationships to each other. I particularly love Riddler's inferiority complex about the Joker. Gary Frank's art is still gorgeous to look at, even when his characters are doing horrific things.
The Flash #51
This the aftermath of the "Flash War" storyline. I was very worried that with the conclusion of that story, Wally West would be written off as unimportant to the overall DCU. But this was a loving tribute to the character. There have been a lot of rumors that they are going to kill him off in the upcoming "Heroes in Crisis" story, but that would be a terribly betrayal to the fan base. Josh Williamson does a great job of showing how both Barry and Wally are equals as the Flash and both bring something different to the table. As the issue states, for an entire generation, Wally West was their Flash.
Hal Jordan and the Green Lantern Corps #49
We are at the penultimate issue of the war between the Green Lantern Corps and the DarkStars. Venditti has done an amazing job as the successor to Geoff Johns. I would place some of his stories at the same level as the Johns era. The build of unlikely allies in this story, from Hector Hammond to General Zod, has paid off wonderfully in this big-action epic fight. Great read.
Action Comics #1001
A number of critics I respect absolutely hate Brian Michael Bendis' work so far on Superman. But I have to say that the writing is fresh and interesting. Watching Superman interact with "normal" criminals is wonderfully comic. And the intrigue of the story kept drawing me in as we got into the mindset of those bad guys who have to outthink the Man of Steel because they know they can't outfight him.
The Terrifics #6
This is one of the best Fantastic Four comics in years that isn't even a Fantastic Four comic. Our quartet of heroes is separated and have to fight off a Metamorphoesque threat. Writers Jeff Lemire and Joe Bennet do some incredibly clever panel work. While all of them are separated, each page is divided into four sections for each hero. As they come together, the number of panels decreases until we have splash pages overflowing with action. Incredibly fun.
Justice League Dark #1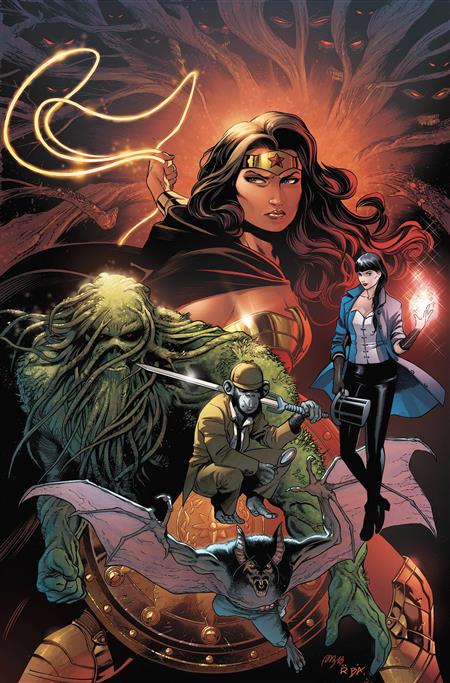 I am an unapologetic super fan of Detective Chimp. He wears his cynicism like armor to hide his heroic and vulnerable nature. James Tynion IV knows how to use this character in the best possible way. While Wonder Woman is the
nominal
leader, this is Detective Chimp's show. Throw in Man-Bat, Zatanna, and Swamp Thing, and this series has potential to be amazing.
Marvel Two-in-One #8
The one Marvel book on my list, writer Chip Zdarsky brings the drama to a head as Ben Grimm and Johnny Storm are hiding out anonymously and powerless in an alien dimension. And the secret Ben has been keeping finally comes to a dramatic head. Zdarsky does a good job of balancing big action and personal drama. This issue is almost all personal drama but I didn't feel the absence of the big action.
Teen Titans #21
This book introduces Damien Wayne's new team. It wasn't the best of the reads this week, but it was a solid introduction to some novel characters. But it was the last page that I really liked and set the tone for this new direction. I will definitely be buying the next issue.