Fr. Benedict Groeschel has passed away.
There are few modern Catholic writers who have had as much of an impact on me as Fr. Groeschel.
The first time I remember encountering him was a from a cassette tape of one of his talks. I was part of a prayer group that would meet in an old church garage. We would pray, sing, and listen to audio cassettes from people like Fr. Larry Richards and Fr. John Corapi. One day my friend, The Bishop, brought a cassette from some priest I never heard of.
And he sounded like Winnie the Pooh.
That was the single salient feature I took from his talk. There was something soft and gentle in his way of speaking that made him endearing. That wasn't to say that he was wishy-washy or lacking conviction. He had wisdom and strength but was not forceful. He was inviting. Whereas Fr. Larry got your blood pumping like you were at a big tent revival Fr. Groeschel felt like your grandfather telling stories by the fireside.
In 1987, Fr. Groeschel founded the Capuchin (Franciscan) Friars of the Renewal. They were dedicated to two things: preaching the Gospel and serving the poor. Soon after he did this, he met with Mother Teresa and said to her, "Mother, I have 7 friars and only $500.00 in our bank account. What are we going to do?" She replied to him, "Don't worry. God has lots of money." Soon after a stranger came by the friary and asked if he could spend the night. They said yes. The next morning he was gone and had left a cashier's check for several thousand dollars. God has lots of money.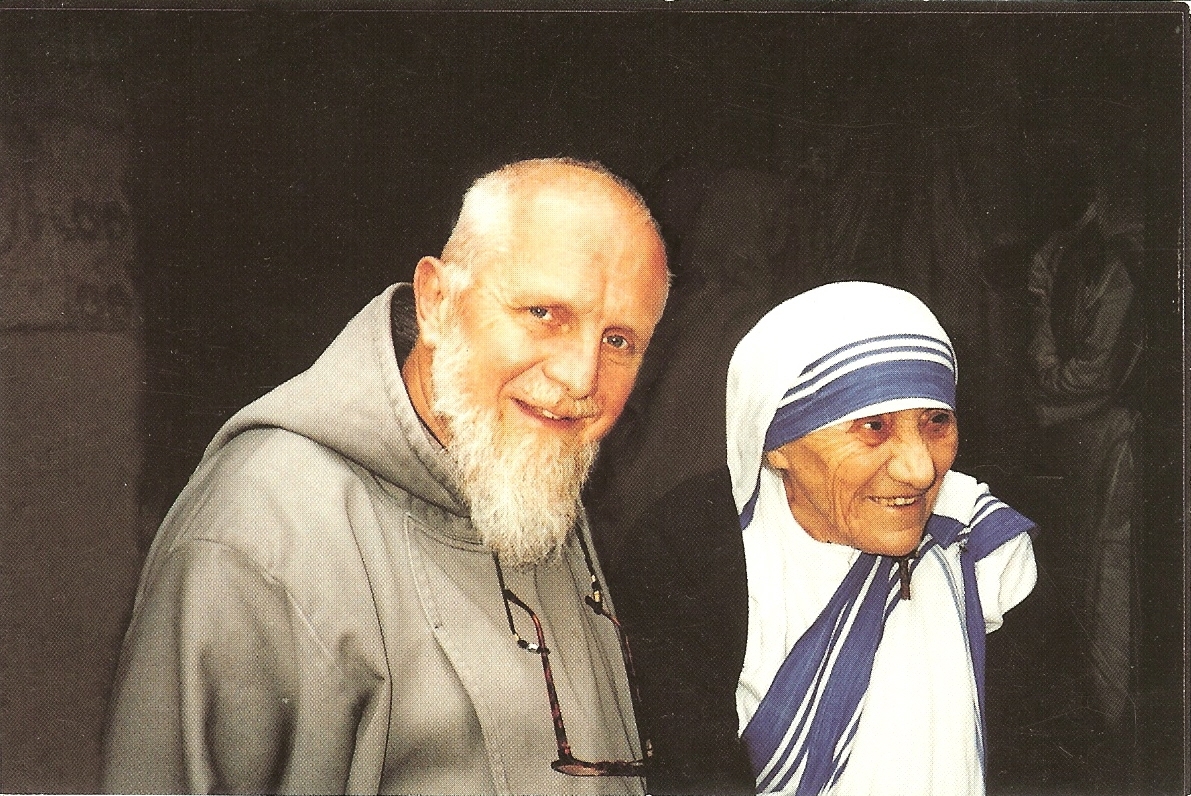 When I had my conversion experience I spent a lot of time chasing after different private revelations and apparitions. My good friend The Doctor turned me onto Fr. Groeschel's book
A Still, Small Voice
, where he laid out so clearly and logically the Church's teaching on private revelations. It was one of the most important books I've read in my spiritual development and reminded me why we need not only direct experiences of God, but a Church that helps us understand those experiences and bind them to an understanding of truth.
His book on
Listening at Prayer
was also a very insightful and practical approach to reaching deeper levels of the spiritual life.
Heaven in Our Hands
reinforced to me the reality that we can have happiness in our lives if we just take and that the sad reality is that most of us don't.
Stumbling Blocks or Stepping Stones
was, again, a very real guide to dealing with suffering. I could go on and on about different books, but you get the idea.
He was idealistic but he was not naive. I remember the story he told about a phase he went through where he stopped praying the part of the "Hail Holy Queen" that mentioned how we live in a "Valle of tears." At the time he thought that the world was too filled with God's goodness and beauty to say that. It was too pessimistic. But that excised phrase was the only thing he could think of as he stood in the rain outside the house of a young man he was counseling who had committed suicide.
He knew the ugly side of life, but he never let it get him down. He got his hands dirty with hard work, but he never took his eyes off of heaven.
I had the privilege of meeting him once. He was kind and funny and gracious. He had a very wry, New York sensibility while feeling completely accessible.
He was wise and patient and loving and funny. I remember when that horribly anti-Catholic show
Nothing Sacred
appeared on ABC, he said, "I could get really angry at this show, but its a bomb. If you're going to attack the Church, give me a Voltaire.. someone with a little class." When Fr. Cozzens wrote a controversial book about the priesthood, Fr. Groeschel concretely laid out his case but ended by saying:
"

We have very different views of the Catholic Church and where it is going. I can only say that I hope he's wrong and he's surely hoping that I'm wrong. But, let's put the differences out on the table. Let's admit that there are profound differences of approach, values and even, perhaps, belief. At the same time, we do belong to the same priesthood and the same Church.
I can only pray that in the future these profound differences will be resolved. Since both of us are getting on in years, I suspect that we will have amply opportunity to discuss our differences when we arrive in purgatory."
Fr. Groeschel suffered much. He was hit by a car and carried injuries for the rest of his life from that. He suffered a stroke that diminished his faculties, which must have been so frustrating for someone with such a sharp wit. In this state he poorly phrased an idea he had on the clergy sex abuse scandal. After that, the long knives came out for him and he had to step back from a good deal of public life.
Fr. Groeschel was a modern American St. Francis of Assisi. On the vigil of the Feast of St. Francis of Assisi, Fr. Groeschel went home to meet him.
Fr. Benedict Groeschel, pray for us!